"Bring It Around"- music video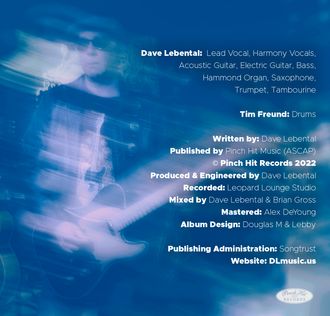 Bring It Around
Dave Lebental
It's kinda bluesy- kinda pop- kinda rock and….. it's 100% Dave Lebental
Read more…
A Few Thoughts About The Writing & Recording of Bring It Around
My new single, "Bring It Around", is best described as acoustic soul, loaded with guitar riffs, horn punches, and vintage Hammond organ. My goal was to bring the track to life by fusing blues, soul and acoustic rock elements  I've always loved the Memphis Stax sound and I tried to include a bit of that feel into the arrangement.  together. One curator called it " a soulful singer-songwriter performance with echoes of Ben Harper, Taj Mahal and Roy Orbison."  I can live with that!
For anyone who doesn't know me, my last name is pronounced "leb-in-tall". As an recording artist, I'm trying to create an "original twist" on the familiar; both in sound & lyric. Lately I've been writing about characters who find themselves in real life situations. "Bring It Around" is actually about a close friend who was in a highly volatile relationship with his girlfriend. They had constant arguments. They would say regrettable sh*t to each other. I had a ringside seat for their domestic in-tranquility.  They would retreat to separate apartments and cool off.  After a little while he'd start missing her and work his way back into her arms. Just like with "Monique", I sing this song in 1st person and take on his character in the story. In case you're wondering, this is a different couple than the one I sang about in "Monique".
I wrote, engineered and produced "Bring It Around" in Leopard Lounge Studios in LA in late 2021.  On this recording I played the acoustic guitar, electric guitar, bass, Hammond organ, sax, trumpet, lead vocal, harmony vocals and percussion. My longtime musical partner Tim Freund contributes the groovin' drums to the track.